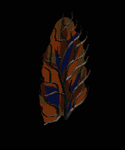 An Evil Force is a living monster found in the City of the Damned. According to Deckard Cain, these inanimate objects were imbued by the Lord of Terror with his vile presence. These stained glass windows can sometimes be found on the mesas in Hell. They lack both mobility and knowledge of arcane arts and cannot attack anything, however Cain speculated they are used to alert the demons of Hell of unwanted visitors.[1]

This section contains facts and trivia relevant to this article.
References
Edit
Ad blocker interference detected!
Wikia is a free-to-use site that makes money from advertising. We have a modified experience for viewers using ad blockers

Wikia is not accessible if you've made further modifications. Remove the custom ad blocker rule(s) and the page will load as expected.