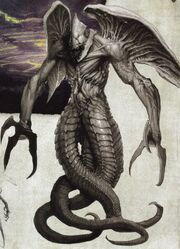 Ancient Beasts are creatures that roam the realm of Pandemonium. With Pandemonium being a harsh realm, Ancient Beasts have to be hardy to survive.[1] Methods of such survival include feeding off magic that lingers in the realm[2] and feeding off prey.[3][4]
Ancient Beasts are a type of monster in Diablo III, found within Pandemonium in Act V. Types include the following:
As they are not common Beasts, the items that have '+X% damage to Beasts' affixes will have no effect against the creatures of Pandemonium.
References
Edit
Ad blocker interference detected!
Wikia is a free-to-use site that makes money from advertising. We have a modified experience for viewers using ad blockers

Wikia is not accessible if you've made further modifications. Remove the custom ad blocker rule(s) and the page will load as expected.