Angel
Talk

0
5,083pages on
this wiki

Angels
, aka
Seraphim,
are spirits of light and sound that are birthed by the
Crystal Arch
, or the Spine of
Anu
, in the
High Heavens
. They are ruled by the
Angiris Council
, the five mighty
Archangels
of
Justice
,
Hope
,
Wisdom
,
Fate
and
Valor
and are diametrically opposed to the
Demons
of the
Burning Hells
, with whom they have been locked in constant, unending conflict since the dawn of creation.
Characteristics
Edit
The Angelic host believes in strict discipline and order and wages a constant battle for the sake of all creation against the demonic hordes of the Burning Hells who seek to turn existence into pure chaos and enslave humanity for their own ends. Angels are beings of pure light and sound, as they are born when all of the High Heavens are in perfect harmony.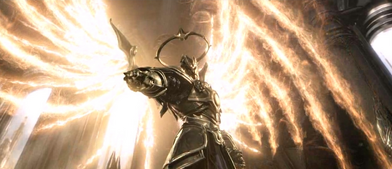 Description
Edit
Angels appear as humanoid figures in shining armour. They wear either helmets or hoods and, as seen during Tyrael's transformation into a human, actually possess no true head or face, only a black featureless shape where a head would be. All angels also bear wings in the form of streaming tendrils of light flowing from their backs. In the Wrath animation they are shown being able to merge these tendrils into actual wings of light, but this may be more a part of the animation's style than a canon aspect of the race.
The armour of angels seems to serve to help them contain the light and harmony of their beings into a single place and form. When their armour is damaged the light within drips out like blood. However they also possess great healing abilities, able to recover from impalement and to coalesce if their forms are dispersed. Their wings seem to be a portion of their true forms beneath the armour and they can be torn out which will cause the angel to take on a fleshy form, as happened to Inarius and Tyrael.
In the Diablo Universe
Edit
In the Diablo universe, Angels are somewhat different from their Judeo-Christian counterparts. While most Angels strive to bring discipline into the world and oppose chaos, and they are said to fight to protect mankind against demonic oppression,[1] they will go through any means to accomplish it. Angels are sometimes described as being very rigid, or (arguably) overzealous - for instance, when they discovered the world of Sanctuary, the Angiris Council first contemplated destroying the hidden realm along with all life because of its partly demonic origins.
Inarius, a renegade Angel and the creator of Sanctuary, wanted its inhabitants to worship him and fuel his ego, although he appears to be the only known Angel to desire this.
Reactions towards Humanity
Edit
While some are sympathetic to humans and truly believe in their potential for good, such as Auriel, freely offer advice and guidance to them even the bowels of Hell itself, such as Hadriel, and even go as far as continually aiding them in their struggles with the Evils and their many mortal and demonic servants, such as Tyrael, the forces of Heaven have thus far largely ceased to interact with Sanctuary and with humanity or interfere with the affairs of mortals, allowing each to choose their own path, for good or ill.
In battle, angels can strike as much fear in mortal hearts as demons. They wield the elemental powers of Ice and Lightning and light, and are expert melee fighters. The Seraphim division of the Angelic Army has been known to sweep entire legions of demons in a single day. All angels have the power to fly, excluding Fallen Angels. Other angelic abilities include immortality, teleportation, telekinesis, and superhuman strength.
Fallen Angels
Edit
A fallen angel is an angel that has been exiled or banished from the High Heavens. This can come to be because of corruption, or more often such banishment is a punishment for disobeying or rebelling against the Angiris Council. Another way is for deliberate betrayal by an angel.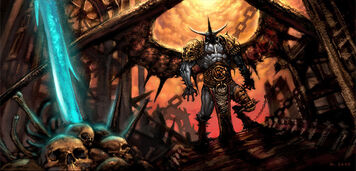 The Fall of Izual
Edit
Izual was a great lieutenant and friend to the Archangel Tyrael. He once led a fierce attack upon the Hellforge as the creation of the dark demonblade Shadowfang was nearing completion. During the battle that ensued, Izual was overcome by legions of Chaos and was lost to the Darkness.
His body was corrupted by the Prime Evils as they forced his soul into the body of a demon, turning him into a demonic monstrosity. They forced him to betray his own kind and give up Heaven's most guarded secrets. Izual became a corrupt shadow of his former self; a fallen angel trusted neither by Heaven nor Hell.
The Fall of Inarius
Edit
As punishment for conspiring with demons and creating Sanctuary without the knowledge of the Angiris Council, Inarius and his followers were given over to the Prime Evil Mephisto, who sought vengeance for Inarius' hand in the destruction of the Triune. In exchange, Mephisto formed a pact with the Council according to which he would never again tread upon Sanctuary or interfere with the lives of its people.
Inarius was bound by tremendous chains whilst barbed hooks slowly tore the wings off his back. The room was covered in mirrors, forcing Inarius to watch as his once glowing skin was stretched and broken.
Inarius' Followers
Edit
In the Diablo Manual, it is written:
"He bound Inarius with tremendous chains and slowly tore the wings from the back of the angel. Great barbed hooks were then used to stretch out the once glowing skin and his features were distorted by vile powers. Many of the followers of Inarius were given as gifts to Baal and Diablo, but the rest were molded to match the bloated image of the now crippled angel. To this day, Inarius is said to be trapped in Hell within a chamber of mirrors, his eyelids torn from his face as he is forced to gaze upon his misshapen form for all eternity. His misguided followers now serve as Hell's taskmasters, taking the anguish of their lost glory out upon the bodies of others."
The Angiris Council
Edit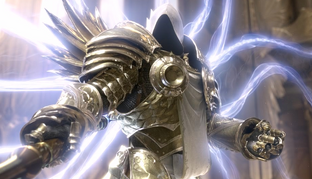 The Angels of
Heaven
are led by five mighty
Archangels
, also known as the
Angiris Council
, that decides what the Host of Heaven's actions are.
Imperius is the Archangel of Valor. He leads the Council in Malthael's absence, and is often headstrong and acts before he thinks. He has killed billions of demons since the Eternal Conflict started, and absolutely loathes them. Imperius often gets in fights with Tyrael because of his constant interventions with humanity. He is described as the most powerful warrior in all of creation.
Tyrael, Archangel of JusticeEdit
Tyrael is the Archangel of Justice. He used to be cold and rigid, but after mankind's brave actions, he has come to realize the promise in them. It is Tyrael who saved man from total annihilation from the hands of the Heavenly Host. In Diablo III, he falls from angelhood in order to warn humanity of coming danger. Tyrael later takes his place as Wisdom.
Auriel is the Archangel of Hope. She is the "voice of reason" in the Council, and often must break up Tyrael and Imperius when they fight. It is Auriel who brings hope to the Heavens, and if she should ever be captured or killed, Heaven will fall in despair. Auriel is closest to Itherael.
Malthael is the Archangel of Wisdom. It is said when he speaks, everyone stops to listen to his teachings. He used to be the leader of the Council, until Tyrael destroyed the Worldstone. He could not fathom this event, and left the Council saying "In the end, only I will prevail". He now wanders the endless halls of Pandemonium, hoping to find answers to the Universe.
Itherael is the Archangel of Fate. He interprets the Scroll of Fate, seeing the endless possibilites to outcomes in life. Itherael is the only person that can read the Scroll. Itherael can see humans, but he cannot see nephalem, because they were never meant to exist. He is closest to Auriel.