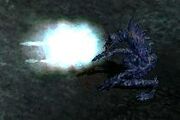 Arctic Blast is a monster skill not unlike the Druid's skill of the same name. A freezing jet of ice crystals are blasted toward the enemy which quickly chills them to the bone.
This skill is used by all variants of Frozen Horror class monsters and Nihlathak.
Ad blocker interference detected!
Wikia is a free-to-use site that makes money from advertising. We have a modified experience for viewers using ad blockers

Wikia is not accessible if you've made further modifications. Remove the custom ad blocker rule(s) and the page will load as expected.