Ad blocker interference detected!
Wikia is a free-to-use site that makes money from advertising. We have a modified experience for viewers using ad blockers

Wikia is not accessible if you've made further modifications. Remove the custom ad blocker rule(s) and the page will load as expected.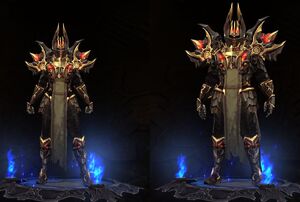 Armor of Akkhan is a Crusader class set in Diablo III.
The set is named after Akkhan, the founder of the Crusaders.
It requires character level 70 to drop, and only drops at Torment difficulty.
All set pieces are Crusader-only. Even transmogrification of these items is only available to Crusaders.
The set's bonuses are namely designed around Crusader builds involving heavy use of Akarat's Champion.
The set consists of six pieces, all six of which are required to complete it, and all six are Crusader-restricted.
Set Bonus:
Reduces the Wrath cost of all abilities by 50% when Akarat's Champion is active (2 pieces)
Reduces the cooldown of Akarat's Champion by 50% (4 pieces)
While Akarat's Champion is active, the Crusader deals 600% increased damage and receives 15% less damage (6 pieces)
The last damage bonus is multiplicative to other similar modifiers.

This section contains facts and trivia relevant to this article.
References
Edit
↑ 2014-07-13, Dev Stream Summary for 2.1, DiabloFans.com. Diablo Fans.com, accessed on 2014-07-17