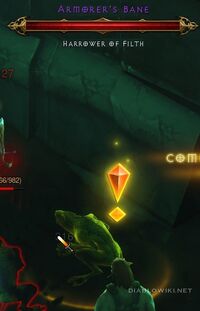 Armorer's Bane, Harrower of Filth, 
is a
Unique
Scavenger
found in the
Watch Tower
Level 2 in
Act I
of
Diablo III
. He spawns for the
Scavenged Scabbard
event.
Initially, he does not attack, but attempting to retrieve the scabbard or hitting either member of his pack causes him to retaliate. Killing it is not even required for the event.
In combat, he has Knockback and Fast affixes.
Ad blocker interference detected!
Wikia is a free-to-use site that makes money from advertising. We have a modified experience for viewers using ad blockers

Wikia is not accessible if you've made further modifications. Remove the custom ad blocker rule(s) and the page will load as expected.