Artisans
Talk

0
6,014pages on
this wiki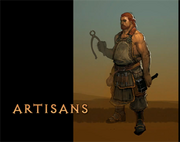 Artisans are a new class of NPCs introduced in Diablo III. First introduced at Gamescon 2010, Artisans will be part of the Caravan and craft items for the player. Multiple items can be queued before leaving for the wilderness and upon returning the items will be crafted. Slain monsters occasionally drop new recipes for Artisans to learn . After learning a certain recipe, Artisans can produce that item as long as the player has the ingredients and gold necessary. Ingredients are gained by salvaging items, a process which breaks the item down into its ingredients. This can be done in the inventory screen anywhere in the game world, reducing trips to vendors and adding incentive to pick up items that would be otherwise ignored. Salvaging is done using a chest that can be obtained through the course of the game, similar to the way the Horadric Cube was obtained. Crafted items have both set and random attributes.
Artisans also gain levels by practicing with the materials given to them, producing better items as they gain experience. The upgrades also improve the way the Artisans workshop looks.
There are different Artisans for different tasks:
Blacksmith
Edit
Haedrig Eamon is a blacksmith, whose wife was infected by Risen in New Tristram. The player must help him put his wife to rest to gain his trust. After doing so, he offers the following abilities:
Haedrig is able to make miracles with heat and metal, forging weapons, suits of armor, shields, belts, helms, and other accoutrements.
Haedrig breaks down unwanted magic items into salvage, mundane and arcane materials that you can use to craft even greater pieces of equipment.
Covetous Shen the Jeweler can combine gems to produce higher quality ones. He can also remove Gems from items. He is a greedy man who sees the character merely as a means to getting rich. His quest requires the player to retrieve a special gem.
Myriam Jahzia is a mystic. She was removed in Beta patch 10 of Diablo III,[1] but will return in the Reaper of Souls expansion. She provides transmorgification services.[2]
Crafting Materials
Edit
When salvaging, you will only be able to salvage Uncommon or Rare items. With each salvage you will receive two different materials initially, Essence and Broken Teeth. The essence will be used to craft your basic items and later you will be able to make 'rare' items utilizing essence, teeth, and significantly more gold than the non-rare items.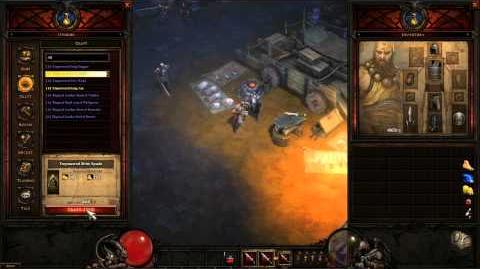 References
Edit