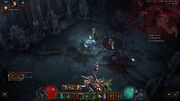 Ascension Ritual, or simply Ascension, is a special event that may occur in Temple of the Firstborn Level 1 in Act II of Diablo III.
Deep into the Temple, the Nephalem can find a hidden altar amidst the iron maiden incubation chambers. Approaching the shrine will make the chambers awaken, and release several Hematic Apostles and two Wretched Hosts.
Killing them all will summon Axabra and a swarm of Blood Vermin, periodically summoning more. Killing Axabra will end the event.
Ad blocker interference detected!
Wikia is a free-to-use site that makes money from advertising. We have a modified experience for viewers using ad blockers

Wikia is not accessible if you've made further modifications. Remove the custom ad blocker rule(s) and the page will load as expected.