Asheara is the leader of the Mercenary company known as "The Iron Wolves". She is tough but friendly and is always looking for ways to pay her expenses. She's the kind who would be on the front lines with her comrades, and getting into drunken brawls with them at the taverns. She wears little to hide her modesty, besides a snake draped over her shoulders.
She shares a strange bond to her mercenaries[1] and gave a vow that no harm shall ever come to anyone they protect[2].
Mephisto's Jungle
Edit
Natalya suggests that while tough, Asheara had never faced true evil prior to Mephisto's awakening. Asheara and her Iron Wolves have been concerned with guarding the Docks, supplementing Hratli's failing enchantment by combating whatever demons and Zakarumites make it through. She will offer the heroes the services of the Iron Wolves for a premium, since they are needed at the docks.
After completing Blade of the Old Religion (quest), Asheara will inform the heroes that several mercenaries have volunteered to aid them free of charge, since Ormus's use of the Gidbinn has freed up their time and they are eager for action.
The Scouring of Caldeum
Edit
Asheara appears as a major supporting NPC in Act 2 of Diablo III, still leading the Iron Wolves. She wears a more ostentatious and (slightly) less revealing outfit in keeping with the other Iron Wolves and the overall opulence of Caldeum. Asheara does not appear to have aged since the events in Kurast (not particularly surprising for a mage) and oddly, speaks with a completely different accent. Her signature snake is also gone.
It was her who has brought Hakan II into Caldeum, yet she did not act against him even when other Iron Wolves started to point out at his madness[3].
She is initially encountered by the player in the Caldeum Bazaar and explains the history of the Iron Wolves and the current state of affairs in the city. Later on, she is shown to still have enough influence with the Emperor to get the player an audience with him. When Hakan II orders the player and Leah executed for the "massacre" of Alcarnus, Asheara covers their escape into the city's sewers. She later supervised the evacuation of the refugees during the Scouring of Caldeum. In combat, she wields a sword, but strangely, does not use spells.
After Belial's defeat, Tyrael says that he is unconcerned about the city's future, since it had Asheara to keep the peace.
She is the namesake for the Diablo III
item sets
,
Asheara's Uniform
 and
Asheara's Vestments
.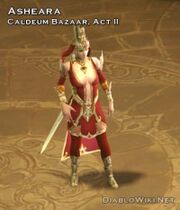 References
Edit
Ad blocker interference detected!
Wikia is a free-to-use site that makes money from advertising. We have a modified experience for viewers using ad blockers

Wikia is not accessible if you've made further modifications. Remove the custom ad blocker rule(s) and the page will load as expected.