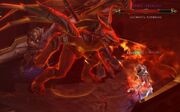 Aspect of Sin, Azmodan's Legionnaire, is a Unique Oppressor found in The Silver Spire Level 2 in Act IV of Diablo III. He is one of the seven Aspect demons.
In combat, Aspect of Sin has Molten, Fast and Desecrator affixes. In Adventure Mode, he can be nominated a bounty target.
In Campaign, he is initially disguised as a ghost of Captain Rumford, and speaking to him will reveal his true form.
Ad blocker interference detected!
Wikia is a free-to-use site that makes money from advertising. We have a modified experience for viewers using ad blockers

Wikia is not accessible if you've made further modifications. Remove the custom ad blocker rule(s) and the page will load as expected.