This page contains obsolete content
This article contains information that is no longer relevant to gameplay, but is kept here for informational purposes.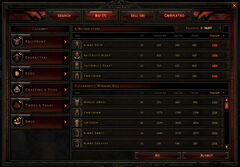 The Auction House was a feature of the PC version of Diablo III. This allowed players to put items up for auction, bid and buyout. Two versions of the auction house existed. One used gold earned in-game while the second used real-world currency. Sales and purchases from the Real Money Auction House (RMAH) could be funded by either the players Battle.net account balance or a separate e-commerce service such as PayPal.[1]
The Auction House's disbandenment was suggested by Josh Mosqueira, who had been brought in as game director. After a short discussion, the entire team, even those on the business side thought it would make the most sense. After this change, it gave the team the ability to make sure to reward players with better items, clear and concise tool tips, and Adventure Mode.[2]
The Auction House service was discontinued on March 18, 2014. Blizzard's original goal was to provide a convenient and secure system for trades, but it was found that the auction house undermined the game's loot-based gameplay. Subsequently, Loot 2.0 has been introduced in Reaper of Souls. Most, if not all, means of player-to-player trade were eliminated in result.[1]
References
Edit
↑ 1.0 1.1 2013-09-17, Diablo® III Auction House Update. Blizzard Entertainment, accessed on 2013-09-18
↑ 2015-03-05, Against the Burning Hells. Wikia, accessed on 2015-03-06
Ad blocker interference detected!
Wikia is a free-to-use site that makes money from advertising. We have a modified experience for viewers using ad blockers

Wikia is not accessible if you've made further modifications. Remove the custom ad blocker rule(s) and the page will load as expected.