Ad blocker interference detected!
Wikia is a free-to-use site that makes money from advertising. We have a modified experience for viewers using ad blockers

Wikia is not accessible if you've made further modifications. Remove the custom ad blocker rule(s) and the page will load as expected.
"The newest monsters created by Baal to serve in his army of destruction, they are stealthy, quick-footed, and unusually tough for their size. Bony knobs protrude from their thick hides, giving them added protection against melee weapons."

—

Monster summary(src)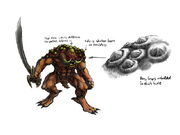 Baal's Minions are monsters that appear in Act V of Diablo II.
The Minions carry long scimitars, wicked axes or mace-like weapons almost as tall as themselves and swing it in a gigantic downthrust that tears apart their victims. Sometimes they spawn with a shield, but even if they do not spawn with one, they can block incoming melee attacks with their bare hands if need be.
They can be transformed in Suicide Minions by the whips of Overseers.
Baal's Minions come in eight variants: Enslaved, Ice Boar, Slayer, Fire Boar, Hell Spawn, Ice Spawn, Greater Hell Spawn, Greater Ice Spawn
Enslaved

| Property | Normal | Nightmare | Hell |
| --- | --- | --- | --- |
| Type | Animal | Animal | Animal |
| Act(s) found in | 5 | 5 | 5 |
| Monster Level | 31 | 59 | 79 |
| Experience | 1179 | 8517 | 34432 |
| Health points | 269–337 | 1276–1595 | 4119–6865 |
| Damage 1 | 15–19 | 36–48 | 68–91 |
| Attack Rating 1 | 483 | 1134 | 3180 |
| Damage 2 | 18–22 | 33–55 | 63–104 |
| Attack Rating 2 | 518 | 1247 | 3498 |
| Defense | 187 | 792 | 1546 |
| % to Block | 50 | 50 | 50 |
| Damage Resist | 0 | 0 | 25 |
| Magic Resist | 0 | 0 | 0 |
| Fire Resist | 0 | 25 | 66 |
| Cold Resist | 0 | 50 | 130 |
| Lightning Resist | 0 | 0 | 15 |
| Poison Resist | 0 | 25 | 15 |
| Drain Effectiveness | 100 | 85 | 75 |
| Immunities | — | — | Cold |
| Chill Effectiveness | 50 | 40 | 33 |
Slayer

| Property | Normal | Nightmare | Hell |
| --- | --- | --- | --- |
| Type | Animal | Animal | Animal |
| Act(s) found in | 5 | 5 | 5 |
| Monster Level | 33 | 59 | 81 |
| Experience | 1422 | 9028 | 36607 |
| Health points | 300–374 | 1309–1636 | 4292–7152 |
| Damage 1 | 16–20 | 36–49 | 69–93 |
| Attack Rating 1 | 516 | 1152 | 3256 |
| Damage 2 | 19–24 | 34–56 | 65–106 |
| Attack Rating 2 | 557 | 1267 | 3581 |
| Defense | 199 | 804 | 1581 |
| % to Block | 50 | 50 | 50 |
| Damage Resist | 0 | 0 | 25 |
| Magic Resist | 0 | 0 | 0 |
| Fire Resist | 0 | 0 | 105 |
| Cold Resist | 0 | 0 | 33 |
| Lightning Resist | 0 | 0 | 15 |
| Poison Resist | 0 | 0 | 25 |
| Drain Effectiveness | 100 | 85 | 75 |
| Immunities | — | — | Fire |
| Chill Effectiveness | 50 | 40 | 33 |
Ice Boar

| Property | Normal | Nightmare | Hell |
| --- | --- | --- | --- |
| Type | Animal | Animal | Animal |
| Act(s) found in | 5 | 5 | 5 |
| Monster Level | 35 | 60 | 80 |
| Experience | 1720 | 9571 | 35520 |
| Health points | 328–412 | 1344–1680 | 4205–7008 |
| Damage 1 | 17–21 | 36–49 | 68–91 |
| Attack Rating 1 | 549 | 1170 | 3218 |
| Damage 2 | 20–25 | 34–56 | 63–104 |
| Attack Rating 2 | 589 | 1287 | 3539 |
| Defense | 212 | 816 | 1563 |
| % to Block | 50 | 50 | 50 |
| Damage Resist | 0 | 0 | 25 |
| Magic Resist | 0 | 0 | 0 |
| Fire Resist | 0 | 0 | 33 |
| Cold Resist | 0 | 0 | 140 |
| Lightning Resist | 0 | 0 | 15 |
| Poison Resist | 0 | 0 | 15 |
| Drain Effectiveness | 100 | 85 | 75 |
| Immunities | — | — | Cold |
| Chill Effectiveness | 50 | 40 | 33 |
Fire Boar

| Property | Normal | Nightmare | Hell |
| --- | --- | --- | --- |
| Type | Animal | Animal | Animal |
| Act(s) found in | | | |
| Monster Level | | | |
| Experience | | | |
| Health points | | | |
| Damage 1 | | | |
| Attack Rating 1 | | | |
| Damage 2 | | | |
| Attack Rating 2 | | | |
| Defense | | | |
| % to Block | | | |
| Damage Resist | | | |
| Magic Resist | | | |
| Fire Resist | | | |
| Cold Resist | | | |
| Lightning Resist | | | |
| Poison Resist | | | |
| Drain Effectiveness | | | |
| Immunities | | | |
| Chill Effectiveness | | | |
Hell Spawn

| Property | Normal | Nightmare | Hell |
| --- | --- | --- | --- |
| Type | Demon | Demon | Demon |
| Act(s) found in | | | |
| Monster Level | | | |
| Experience | | | |
| Health points | | | |
| Damage 1 | | | |
| Attack Rating 1 | | | |
| Damage 2 | | | |
| Attack Rating 2 | | | |
| Defense | | | |
| % to Block | | | |
| Damage Resist | | | |
| Magic Resist | | | |
| Fire Resist | | | |
| Cold Resist | | | |
| Lightning Resist | | | |
| Poison Resist | | | |
| Drain Effectiveness | | | |
| Immunities | | | |
| Chill Effectiveness | | | |
Ice Spawn

| Property | Normal | Nightmare | Hell |
| --- | --- | --- | --- |
| Type | Animal | Animal | Animal |
| Act(s) found in | | | |
| Monster Level | | | |
| Experience | | | |
| Health points | | | |
| Damage 1 | | | |
| Attack Rating 1 | | | |
| Damage 2 | | | |
| Attack Rating 2 | | | |
| Defense | | | |
| % to Block | | | |
| Damage Resist | | | |
| Magic Resist | | | |
| Fire Resist | | | |
| Cold Resist | | | |
| Lightning Resist | | | |
| Poison Resist | | | |
| Drain Effectiveness | | | |
| Immunities | | | |
| Chill Effectiveness | | | |
Greater Hell Spawn

| Property | Normal | Nightmare | Hell |
| --- | --- | --- | --- |
| Type | Demon | Demon | Demon |
| Act(s) found in | | | |
| Monster Level | | | |
| Experience | | | |
| Health points | | | |
| Damage 1 | | | |
| Attack Rating 1 | | | |
| Damage 2 | | | |
| Attack Rating 2 | | | |
| Defense | | | |
| % to Block | | | |
| Damage Resist | | | |
| Magic Resist | | | |
| Fire Resist | | | |
| Cold Resist | | | |
| Lightning Resist | | | |
| Poison Resist | | | |
| Drain Effectiveness | | | |
| Immunities | | | |
| Chill Effectiveness | | | |
Greater Ice Spawn

| Property | Normal | Nightmare | Hell |
| --- | --- | --- | --- |
| Type | Animal | Animal | Animal |
| Act(s) found in | | | |
| Monster Level | | | |
| Experience | | | |
| Health points | | | |
| Damage 1 | | | |
| Attack Rating 1 | | | |
| Damage 2 | | | |
| Attack Rating 2 | | | |
| Defense | | | |
| % to Block | | | |
| Damage Resist | | | |
| Magic Resist | | | |
| Fire Resist | | | |
| Cold Resist | | | |
| Lightning Resist | | | |
| Poison Resist | | | |
| Drain Effectiveness | | | |
| Immunities | | | |
| Chill Effectiveness | | | |