Ad blocker interference detected!
Wikia is a free-to-use site that makes money from advertising. We have a modified experience for viewers using ad blockers

Wikia is not accessible if you've made further modifications. Remove the custom ad blocker rule(s) and the page will load as expected.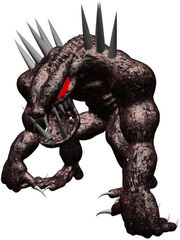 Baboon Demons are ferocious animals that are often found prowling the jungles of Kurast. The sole exception is the Dune Beast, which is found roaming in the Palace Cellar in the city of Lut Gholein. They are often quick to anger and will attack with great ferocity. The danger of these creatures is not to be underestimated as they are frequently found together in packs. These monsters are fond of running away once their hit points reach critical levels.
Twisted by the vile powers of Mephisto, these once docile tree dwellers have become rampaging monstrosities that prey on the weak and unwary. Their basic instincts have been heightened as well, increasing their carnivorous tendencies as well as making them attack anything - or anyone - that poses a threat to their dominance of the jungle.
Diablo II
Edit
There are four types of Baboon Demon:
The Dune Beast is the weakest variant of the Baboon Demon. It is found in the second act, in the lower levels of Jerhyn's palace. They are relatively easy to defeat except in larger, overwhelming numbers. They are the only variant not to call the jungles of Kurast and Kehjistan home.
The Jungle hunter is the second variant of Baboon Demon, and is seen throughout the jungles of Kehjistan near the Kurast Docks.
The Doom Ape is the third variant of the Baboon Demon and it is found in the deeper jungles of Kehjistan leading up to the city of Kurast. They are seen in the Flayer Jungle, Lower Kurast and sometimes in the Kurast Bazaar.
The Temple Guard is the fourth variant of the Baboon Demon. They are seen closer to the Durance of Hate, in the Kurast Bazaar, Upper Kurast, the Kurast Causeway and the city of Travincal. Their power is possibly due to their proximity to Mephisto's corruption.
The Night Marauder is fifth and also strongest kind of Baboon Demon. These beasts are found in the three halls of Nihlathak and are somewhat ethereal in form. However as their relative species the Night Marauders are also faint-hearted and usually run away when injured.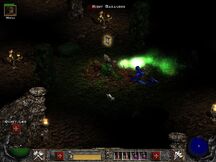 There is also a sixth variant in the game files that does not appear in-game: the Rock Dweller.
There are no Super Unique Baboon Demons.
Although they are called Demons, in-game all variants are Animals.
Dune Beast

| Property | Normal | Nightmare | Hell |
| --- | --- | --- | --- |
| Type | Animal | Animal | Animal |
| Act(s) found in | 2 | 2 | 2 |
| Monster Level | 18 | 47 | 78 |
| Experience | 238 | 5942 | 45850 |
| Health points | 69–96 | 810–1215 | 3629–7258 |
| Damage 1 | 6–18 | 19–50 | 44–115 |
| Attack Rating 1 | 162 | 1123 | 3770 |
| Damage 2 | 6–18 | 19–42 | 44–97 |
| Attack Rating 2 | 152 | 1216 | 4084 |
| Defense | 90 | 726 | 1680 |
| % to Block | 18 | 18 | 18 |
| Damage Resist | 0 | 0 | 33 |
| Magic Resist | 0 | 0 | 0 |
| Fire Resist | 0 | 0 | 0 |
| Cold Resist | 0 | 0 | 50 |
| Lightning Resist | 0 | 0 | 100 |
| Poison Resist | 0 | 0 | 25 |
| Drain Effectiveness | 100 | 100 | 100 |
| Immunities | — | — | Lightning |
| Chill Effectiveness | 50 | 40 | 30 |
Jungle Hunter

| Property | Normal | Nightmare | Hell |
| --- | --- | --- | --- |
| Type | Animal | Animal | Animal |
| Act(s) found in | 3 | 3 | 3 |
| Monster Level | 21 | 49 | 79 |
| Experience | 320 | 6804 | 47345 |
| Health points | 83–117 | 871–1306 | 3707–7414 |
| Damage 1 | 7–21 | 20–53 | 45–118 |
| Attack Rating 1 | 197 | 1166 | 3816 |
| Damage 2 | 7–21 | 20–45 | 45–100 |
| Attack Rating 2 | 197 | 1263 | 4134 |
| Defense | 107 | 752 | 1700 |
| % to Block | 21 | 21 | 21 |
| Damage Resist | 0 | 0 | 45 |
| Magic Resist | 0 | 0 | 0 |
| Fire Resist | 0 | 0 | 0 |
| Cold Resist | 0 | 0 | 50 |
| Lightning Resist | 0 | 0 | 105 |
| Poison Resist | 0 | 0 | 25 |
| Drain Effectiveness | 100 | 100 | 100 |
| Immunities | — | — | Lightning |
| Chill Effectiveness | 50 | 40 | 30 |
Doom Ape

| Property | Normal | Nightmare | Hell |
| --- | --- | --- | --- |
| Type | Animal | Animal | Animal |
| Act(s) found in | 3 | 3 | 3 |
| Monster Level | 22 | 52 | 80 |
| Experience | 348 | 8256 | 48840 |
| Health points | 89–126 | 871–1306 | 3784–7569 |
| Damage 1 | 7–22 | 12–55 | 45–118 |
| Attack Rating 1 | 207 | 1231 | 3861 |
| Damage 2 | 7–22 | 12–55 | 45–118 |
| Attack Rating 2 | 207 | 1333 | 4183 |
| Defense | 112 | 792 | 1719 |
| % to Block | 22 | 22 | 22 |
| Damage Resist | 0 | 0 | 45 |
| Magic Resist | 0 | 0 | 0 |
| Fire Resist | 0 | 0 | 0 |
| Cold Resist | 0 | 0 | 50 |
| Lightning Resist | 0 | 0 | 105 |
| Poison Resist | 0 | 0 | 25 |
| Drain Effectiveness | 100 | 100 | 100 |
| Immunities | — | — | Lightning |
| Chill Effectiveness | 50 | 40 | 30 |
Temple Guard

| Property | Normal | Nightmare | Hell |
| --- | --- | --- | --- |
| Type | Animal | Animal | Animal |
| Act(s) found in | 3 | 3 | 3 |
| Monster Level | 24 | 53 | 81 |
| Experience | 425 | 8751 | 50334 |
| Health points | 100–141 | 871–1306 | 3862–7734 |
| Damage 1 | 8–24 | 22–57 | 46–120 |
| Attack Rating 1 | 223 | 1252 | 3907 |
| Damage 2 | 8–24 | 22–48 | 46–102 |
| Attack Rating 2 | 223 | 1357 | 4232 |
| Defense | 122 | 805 | 1739 |
| % to Block | 24 | 24 | 24 |
| Damage Resist | 0 | 0 | 50 |
| Magic Resist | 0 | 0 | 0 |
| Fire Resist | 0 | 0 | 0 |
| Cold Resist | 0 | 0 | 50 |
| Lightning Resist | 0 | 0 | 110 |
| Poison Resist | 0 | 0 | 25 |
| Drain Effectiveness | 100 | 100 | 100 |
| Immunities | — | — | Lightning |
| Chill Effectiveness | 50 | 40 | 30 |