Bashiok (Monster)
Talk

0
7,255pages on
this wiki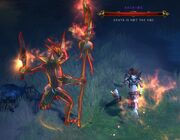 Bashiok, Death Is Not The End,
is a rare spawn
unique
Fallen Shaman
that can be found within the
Dahlgur Oasis
in Act II of
Diablo III
. He is linked to the achievement
Bashanishu
. Bashiok can spawn anywhere in the Dahlgur Oasis, though he is typically found wandering closer to the Dahlgur Oasis Waypoint. This monster most often spawns with a small group of Fallen at his aid.
Named for the Diablo III community manager, Bashiok, the ingame monster appears as a Fallen Shaman (conjurer). It is speculated as a relationship to Bashiok's forum avatar, which is also a Fallen Shaman.

In combat, Bashiok spawns with two random affixes fit for his current level. Note: Some of these modifiers are more commonly seen than others, and various pairings of skills has been reported.