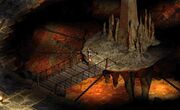 The Binding Stone was a construct of the Horadrim, used to bind the Prime Evil Baal after Tal Rasha took it upon himself to use his body as a living soulstone. Etched with runes of containment, it was held fast to the walls of a chamber in a tomb deep below the sands of Aranoch. Tal Rasha ordered his breathren to chain him to the stone, where he was left to wrestle with Baal's spirit for all eternity.[1]
His imprisonment was broken by the Dark Wanderer and Marius, who imprisoned Tyrael in Baal's place (possibly indicating that the Stone can bind any entity, not just Prime Evils).[2] The archangel was rescued by a group of heroes however.[3]
Visually, the Stone is a large obelisk of brown-gray rock, carved with runes and glimmering with power as the imprisoned entity is struggling to break its grip. It was, apparently, made on the spot, as a makeshift addition to the damaged soulstone.
References
Edit
↑ Diablo II, The Infernal Gate Intro Cinematic
Ad blocker interference detected!
Wikia is a free-to-use site that makes money from advertising. We have a modified experience for viewers using ad blockers

Wikia is not accessible if you've made further modifications. Remove the custom ad blocker rule(s) and the page will load as expected.