The Blackfeather is a Legendary cloak for the Demon Hunter in Diablo III. It requires character level 31 to drop.
The special affix did not have a cooldown initially (resulting in overpowered damage, especially with Ballistics passive skill), but then a hotfix added a 10 seconds cooldown to it. The rockets also appear to have unlimited range.
Stats (Level 31)
Edit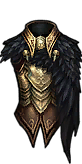 Blackfeather
Legendary Cloak
This cloak matches the description of the one worn by the hero in the popular children's tale Yorgie and the Giants.
Ad blocker interference detected!
Wikia is a free-to-use site that makes money from advertising. We have a modified experience for viewers using ad blockers

Wikia is not accessible if you've made further modifications. Remove the custom ad blocker rule(s) and the page will load as expected.