Blades of Ice is an Assassin Skill in Diablo II.
Charging the ether around her claw blades, the trained Assassin can chill opponents with a vicious rake of her razors.
General Information
Edit
Synergies
Edit
Gives synergy to:
Receives synergy from:
This ability is a Charge-up Skill.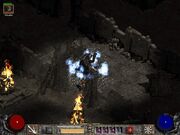 Compared to the other two elemental skills, Blades of Ice has the least damage, and is generally only useful for freezing. If invested in, this skill can still provide utility as it guarantees freezing over the immediate area (Phoenix Strike's 3rd charge can occasionally leave nearby enemies unaffected, due to the missiles' odd flight patterns), and it is not affected by NextDelay, so it can be combined with Phoenix Strike with no worries.
Skill Progression
Edit
Mana Cost: 3
Level
1
2
3
4
5
6
7
8
9
10
11
Bonus Attack
15%
22%
29%
36%
43%
50%
57%
64%
71%
78%
85%
Charge 1
Cold Damage
15–35
23–43
31–51
39–59
47–67
55–75
63–83
71–91
81–101
91–111
101–121
Charge 2
Cold Radius (yards)
4
4
4
4
4
4
4
4
4
4
4
Charge 3
Freeze Duration
4
4.4
4.8
5.2
5.6
6
6.4
6.8
7.2
7.6
8
Level
12
13
14
15
16
17
18
19
20
25
Bonus Attack
92%
99%
106%
113%
120%
127%
134%
141%
148%
183%
Charge 1
Cold Damage
111–131
121–141
131–151
141–161
151–171
171–193
191–215
211–237
231–259
Charge 2
Cold Radius (yards)
4
4
4
4
4
4
4
4
4
4
Charge 3
Freeze Duration
8.4
8.8
9.2
9.6
10
10.4
10.8
11.2
11.6
13.6