Ad blocker interference detected!
Wikia is a free-to-use site that makes money from advertising. We have a modified experience for viewers using ad blockers

Wikia is not accessible if you've made further modifications. Remove the custom ad blocker rule(s) and the page will load as expected.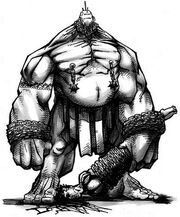 Blunderbores are monsters found in later acts of Diablo II. These monsters are those many warriors who have sought ways to improve their prowess with weapons by alchemic means, going too far and losing their humanity, becoming demons. They have gained tremendous size and strength from alchemy. Their muscles have notably expanded. However, it seems that they did not gain any intelligence from their enhancements, as their heads are quite small. Blunderbores ferociously attack anyone they see, and will not stop until either itself or its foe has fallen. They use the bodies of their enemies as trophies to show their dominance, oftentimes also as weapons. Because of their enormous strength, their attacks will stun anyone unlucky to be hit. They are quite easy to outwit, but should still be considered a serious threat. They also possess twice the health recovery rate of normal monsters. Blunderbores are often found wandering in old temples and underground tombs.
Alchemical enhancements have increased the physical muscle mass of these warriors far beyond normal proportions. Their heads, and minds for that matter, have suffered in the transformation, making them quite single-minded in their need to fight. As a sign of dominance and intimidation over smaller opponents, they commonly use the bodies of those they have defeated as weapons.
Diablo II
Edit
Blunderbores come in three other variants: Gorebelly, Mauler and Urdar.
These monsters have a 15% chance of Crushing Blow in Nightmare and a 25% chance of Crushing Blow in Hell. On Hell Difficulty, Blunderbores are immune to Fire, Gorebellies to Cold, and Maulers to Lightning. Urdars do not possess any immunities.
There are Super Unique Blunderbores.
Blunderbore

| Property | Normal | Nightmare | Hell |
| --- | --- | --- | --- |
| Type | Demon | Demon | Demon |
| Act(s) found in | 2 | 2 | 2 |
| Monster Level | 18 | 47 | 78 |
| Experience | 282 | 7022 | 54186 |
| Health points | 102–128 | 1620–1980 | 7259–11829 |
| Damage 1 | 9–16 | 35–54 | 80–124 |
| Attack Rating 1 | 221 | 1029 | 3456 |
| Damage 2 | 14–18 | 46–60 | 106–137 |
| Attack Rating 2 | 162 | 936 | 3142 |
| Defense | 90 | 528 | 1222 |
| % to Block | 24 | 24 | 24 |
| Damage Resist | 0 | 0 | 55 |
| Magic Resist | 0 | 0 | 0 |
| Fire Resist | 0 | 0 | 115 |
| Cold Resist | 0 | 0 | 50 |
| Lightning Resist | 0 | 0 | 50 |
| Poison Resist | 0 | 0 | 0 |
| Drain Effectiveness | 100 | 100 | 100 |
| Immunities | — | — | Fire |
| Chill Effectiveness | 50 | 40 | 33 |
Gorebelly

| Property | Normal | Nightmare | Hell |
| --- | --- | --- | --- |
| Type | Demon | Demon | Demon |
| Act(s) found in | 2 | 2 | 2 |
| Monster Level | 20 | 49 | 80 |
| Experience | 342 | 8041 | 57720 |
| Health points | 116–146 | 1742–2129 | 7569–12335 |
| Damage 1 | 10–18 | 36–57 | 81–127 |
| Attack Rating 1 | 248 | 1069 | 3539 |
| Damage 2 | 16–20 | 49–63 | 109–141 |
| Attack Rating 2 | 185 | 972 | 3218 |
| Defense | 102 | 547 | 1250 |
| % to Block | 27 | 27 | 27 |
| Damage Resist | 0 | 0 | 55 |
| Magic Resist | 0 | 0 | 0 |
| Fire Resist | 0 | 0 | 50 |
| Cold Resist | 0 | 0 | 140 |
| Lightning Resist | 0 | 0 | 50 |
| Poison Resist | 0 | 0 | 0 |
| Drain Effectiveness | 100 | 100 | 100 |
| Immunities | — | — | Cold |
| Chill Effectiveness | 50 | 40 | 33 |
Mauler

| Property | Normal | Nightmare | Hell |
| --- | --- | --- | --- |
| Type | Demon | Demon | Demon |
| Act(s) found in | 3 | 3 | 3 |
| Monster Level | 25 | 55 | 83 |
| Experience | 554 | 11624 | 63020 |
| Health points | 160–200 | 2111–2580 | 8035–13094 |
| Damage 1 | 12–22 | 40–63 | 84–131 |
| Attack Rating 1 | 320 | 1188 | 3665 |
| Damage 2 | 19–24 | 54–69 | 112–145 |
| Attack Rating 2 | 236 | 1080 | 3332 |
| Defense | 127 | 604 | 1292 |
| % to Block | 33 | 33 | 33 |
| Damage Resist | 0 | 0 | 55 |
| Magic Resist | 0 | 0 | 0 |
| Fire Resist | 0 | 0 | 50 |
| Cold Resist | 0 | 0 | 50 |
| Lightning Resist | 0 | 0 | 100 |
| Poison Resist | 0 | 0 | 0 |
| Drain Effectiveness | 100 | 100 | 100 |
| Immunities | — | — | Lightning |
| Chill Effectiveness | 50 | 40 | 33 |
Urdar

| Property | Normal | Nightmare | Hell |
| --- | --- | --- | --- |
| Type | Demon | Demon | Demon |
| Act(s) found in | 4 | 4 | 4 |
| Monster Level | 32 | 57 | 85 |
| Experience | 1072 | 13057 | 66553 |
| Health points | 240–300 | 2233–2730 | 8346–13600 |
| Damage 1 | 15–27 | 42–65 | 86–134 |
| Attack Rating 1 | 413 | 1227 | 3748 |
| Damage 2 | 24–30 | 56–72 | 115–148 |
| Attack Rating 2 | 307 | 1116 | 3408 |
| Defense | 161 | 624 | 1320 |
| % to Block | 42 | 42 | 42 |
| Damage Resist | 0 | 0 | 55 |
| Magic Resist | 0 | 0 | 0 |
| Fire Resist | 25 | 50 | 75 |
| Cold Resist | 25 | 50 | 75 |
| Lightning Resist | 25 | 50 | 75 |
| Poison Resist | 25 | 50 | 0 |
| Drain Effectiveness | 100 | 100 | 100 |
| Immunities | — | — | — |
| Chill Effectiveness | 50 | 40 | 33 |