Ad blocker interference detected!
Wikia is a free-to-use site that makes money from advertising. We have a modified experience for viewers using ad blockers

Wikia is not accessible if you've made further modifications. Remove the custom ad blocker rule(s) and the page will load as expected.
"The tusked bogan is a ferocious, hulking beast with an exceedingly bad temper. Aided by packs of boggits, it will fight anything that crosses its path. Invariably, some of the boggits will die, but the survivors are rewarded with scraps left over from the bogan's prey. If only my assistants would work for so little!"

—

Abd al-Hazir(src)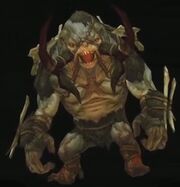 The Bogan Brutes (a.k.a. Tusked Bogans) are the dominant creatures of the Bogan of the Blood Marsh and Paths of the Drowned. Wandering where they please, they make Boggits feel their wrath on a regular basis.[1]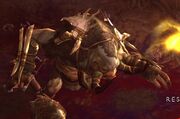 The Bogan Brute appears in
Act V
of
Diablo III
.
[1]
They summon Boggits to the field and literally throw them at players, dealing average Physical damage with each throw.
Terror Bats
can turn Boggits into Bogan Brutes, and vice versa (if necessary).
[2]
 Bogan Brutes are largest, but also slowest and least numerous of the Bogan. In addition to their normal attacks, they can also charge like
Beasts
, dealing greater damage to the first enemy their rush in. They are also immune to
Knockback
.
References
Edit
↑ 1.0 1.1 2013-12-01, BlizzCon 2013 – Diablo III: Reaper of Souls Preview Panel Transcript. Blizzplanet, accessed on 2014-01-04
↑ 2013-12-01, BlizzCon 2013 – Diablo III: Reaper of Souls Preview Panel Transcript. Blizzplanet, accessed on 2014-01-05