Ad blocker interference detected!
Wikia is a free-to-use site that makes money from advertising. We have a modified experience for viewers using ad blockers

Wikia is not accessible if you've made further modifications. Remove the custom ad blocker rule(s) and the page will load as expected.
"The bogan trapper's snares are surprisingly effective, though I have no idea how they learned to fashion them. Most of the bogans' feeble intelligence seems to be centered around killing and eating, and in this respect, their efforts are admirable. Perhaps I should hide one of these snares near my tent when I'm sleeping..."

—

Abd al-Hazir(src)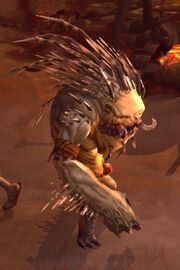 Bogan Trappers are creatures found in the Blood Marsh and Paths of the Drowned, being the larger and more threatening variant of the Boggits. They are willing to go out and hunt, using traps to slow their prey, and then using a blow dart to incapacitate them.[1]
Bogan Trappers are found in
Act V
of
Diablo III
.
[1]
They can be found manning
Trapper Towers
, although should the tower be destroyed, it buries the manning Bogans under its rubble.
[2]
 Their blow darts cause Poison damage from medium distance, and in addition Bogan Trappers may ambush the player, appearing from the surroundings. They can also lay bear traps which, should enemy step onto them, cause average amount of Physical damage over time and slow the player by 80% for 5 seconds.
Terror Bats
may not pick the Trappers.
References
Edit
↑ 1.0 1.1 2013-12-01, BlizzCon 2013 – Diablo III: Reaper of Souls Preview Panel Transcript. Blizzplanet, accessed on 2014-01-04
↑ 2013-12-01, BlizzCon 2013 – Diablo III: Reaper of Souls Preview Panel Transcript. Blizzplanet, accessed on 2014-01-05