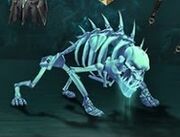 Bones, also known as the Spectral Hound, is a minion that players can summon in Diablo III, provided they purchased the digital deluxe or collector's edition version of Reaper of Souls. It is summoned through the Canem Mortem Liber.
The hound does not engage monsters, but will pick up any gold it runs over.
Please don't feed the skeleton.
Ad blocker interference detected!
Wikia is a free-to-use site that makes money from advertising. We have a modified experience for viewers using ad blockers

Wikia is not accessible if you've made further modifications. Remove the custom ad blocker rule(s) and the page will load as expected.