Ad blocker interference detected!
Wikia is a free-to-use site that makes money from advertising. We have a modified experience for viewers using ad blockers

Wikia is not accessible if you've made further modifications. Remove the custom ad blocker rule(s) and the page will load as expected.
Breath of Heaven


Class: Monk
Required Level: 8
Skill Category: Defensive
Active
Cooldown: 15 seconds

A blast of divine energy heals the Monk and all allies within 12 yards for 69735—91192 Life. Heal amount is increased by 30% of the Monk's own Health Globe Healing Bonus.

Damage Type: Holy
Other Stats: Can be cast on the move; Does not interrupt casting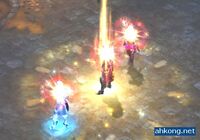 Breath of Heaven is a Defensive Monk skill.
The healing amount scales with level (amount above is for level 70). It is the only skill in game specifically designed for group healing, as well as the only skill in game that can instantly and directly heal allies.
Circle of Scorn: also damages enemies within 12 yards for 505% damage as Holy (unlocked at level 14).
Circle of Life: doubles the base amount healed (the Health Globe healing bonus does not change), up to 139469 to 182383 at level 70 (unlocked at level 21).
Blazing Wrath: also increases the damage of the Monk's attacks by 10% for 9 seconds (unlocked at level 32).
Infused with Light: Primary skills also generate 14 additional Spirit per attack for 5 seconds after using Breath of Heaven. Other sources of generating Spirit are unaffected (unlocked at level 44).
Zephyr: affected allies (and the Monk) also gain +30% movement speed for 3 seconds (unlocked at level 59).
Non-rune enhancements
Edit
Development
Edit
This page contains obsolete content
This article contains information that is no longer relevant to gameplay, but is kept here for informational purposes.
Originally, this skill was known as Circle of Wrath.