"I won't go on too long, nor get too nostalgic. But I'd like to say it was an absolute honor to work at Blizzard all those years, on incredible projects, with amazing people. All good things must come to an end, and I decided that it was time to move on, learn new things in a new environment, and face new challenges. But a part of me will always reside at Blizzard."

—

Brian Kinregan(src)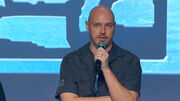 Brian Kindreagan was a writer at Blizzard Entertainment. He worked on its Diablo, StarCraft, and Warcraft settings.
Biography
Edit
Originally a member of BioWare, Kindregan joined Blizzard in 2009, where he worked on the development of StarCraft II.[1] He wrote the dialogue for Kormac, Lyndon, and Eirena in Diablo III,[2] and later served as the lead writer for Reaper of Souls;[3] he developed most, if not all of the lore for the Crusader class.[4]
Kindregan had left Blizzard by June, 2016.[1] He has since joined Epic Games as a narrative director.[2]
References
Edit
↑ 1.0 1.1 2016-06-17, Big Changes Part 1. Brian Kindregan's Blog, accessed on 2016-06-22
↑ 2.0 2.1 2016-07-07, Brian T. Kindregan joined Epic Games Studios. Blizzplanet, accessed on 2016-07-08
↑ 2013-12-08, BlizzCon 2013 – Diablo III Lore and Story Q&A Panel Transcript. Blizzplanet, accessed on 2014-03-09
↑ 2013-10-24, Blizzplanet Interview – Micky Neilson & Matt Burns Discuss Diablo III: Book of Tyrael. Blizzplanet, accessed on 2013-10-26