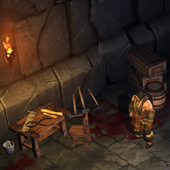 Bridge Stores is a small dungeon that can be found in Rakkis Crossing in Act III of Diablo III.
It can roll an unmarked event: a dying Guard of the Keep crawling out of the opened doors, only to be surrounded by Demonic Hellflyers. In the stores itself, players will find an elite monster pack.
If that event is not rolled, a vendor (Vidar the Collector) will spawn in the stores, and the doors will be closed.
Ad blocker interference detected!
Wikia is a free-to-use site that makes money from advertising. We have a modified experience for viewers using ad blockers

Wikia is not accessible if you've made further modifications. Remove the custom ad blocker rule(s) and the page will load as expected.