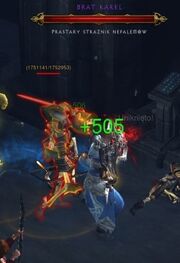 Brother Karel, Ancient Nephalem Guardian
 is a
Super Unique
Skeletal Shieldbearer
, an ancient warrior guarding the
Drowned Temple
in
Diablo III
. The player has to fight him, along with
Brother Moek
and
Brother Larel
. They all spawn once
Ezek the Prophet
is defeated, and killing them opens the path to the Sword Shard.
In combat, Brother Karel has a Knockback affix.

This section contains facts and trivia relevant to this article.
Brother Karel's name may be a reference to Joachim Karel from Tomb Raider: the Angel of Darkness. In that entry of the Tomb Raider series, he was revealed to be a Nephilim.
Given the addition of Brothers Moek and Larel, Brother Karel may be a reference to Curly Howard of The Three Stooges.
Ad blocker interference detected!
Wikia is a free-to-use site that makes money from advertising. We have a modified experience for viewers using ad blockers

Wikia is not accessible if you've made further modifications. Remove the custom ad blocker rule(s) and the page will load as expected.