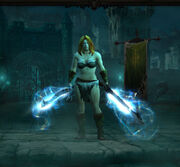 Bul-Kathos's Oath is a Barbarian-only minor class set in Diablo III, reminiscent of the Diablo II Bul-Kathos' Children set.
This set is named after the Immortal King Bul-Kathos. It requires a character level of 60.
The set consists of just two items, both of which are required to complete the set. Both pieces are Barbarian-only.
Set Bonuses (2 pieces):
Fury regeneration bonus works regardless of whether or not the Barbarian is in combat. Due to such boost, using Whirlwind in combat de-facto costs 15 less Fury per second, or even none with proper build. This set is most powerful when coupled with Wrath of the Wastes.
Ad blocker interference detected!
Wikia is a free-to-use site that makes money from advertising. We have a modified experience for viewers using ad blockers

Wikia is not accessible if you've made further modifications. Remove the custom ad blocker rule(s) and the page will load as expected.