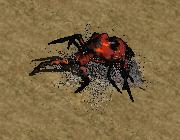 Burrow is an ability used by the Sand Maggot class of monsters. They dig into the ground where they are immune to damage for a short period of time, after which, emerging once again. Maggots usually Burrow when they are cornered and at low health.
This ability is similar to Fly, only oppositely so.
Ad blocker interference detected!
Wikia is a free-to-use site that makes money from advertising. We have a modified experience for viewers using ad blockers

Wikia is not accessible if you've made further modifications. Remove the custom ad blocker rule(s) and the page will load as expected.