Ad blocker interference detected!
Wikia is a free-to-use site that makes money from advertising. We have a modified experience for viewers using ad blockers

Wikia is not accessible if you've made further modifications. Remove the custom ad blocker rule(s) and the page will load as expected.
Burst of Speed is an Assassin Skill in Diablo II.
Tapping into her psychokinetic energies, an Assassin temporarily increases the speed of her movements and attacks.
General Information
Edit
Synergies
Edit
Gives synergy to : None
Receives synergy from : None
Burst of Speed increases movement speed and attack speed, and therefore allows to attack very quickly, chase down monsters that may flee, or escape when trouble arises. Though skill points diminish quickly, six or seven points in the skill grant a large chunk of what the total skill has to offer (~64%).
Burst of Speed does not work together with Fade. Casting one overrides the other.
This ability has a hidden "synergy" with some traps. Some traps are affected by attack speed, so increasing attack speed increases trap attack speed.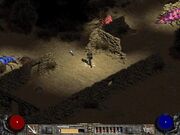 Skill Progression
Edit
Mana Cost: 10
| Level | 1 | 2 | 3 | 4 | 5 | 6 | 7 | 8 | 9 | 10 | 11 |
| --- | --- | --- | --- | --- | --- | --- | --- | --- | --- | --- | --- |
| Increased Attack Speed | 21% | 27% | 31% | 34% | 37% | 41% | 42% | 44% | 44% | 45% | 46% |
| Increased Run/Walk Speed | 23% | 29% | 34% | 39% | 42% | 45% | 47% | 49% | 51% | 52% | 54% |
| Duration | 120 | 132 | 144 | 156 | 168 | 180 | 192 | 204 | 216 | 228 | 240 |
| Level | 12 | 13 | 14 | 15 | 16 | 17 | 18 | 19 | 20 | 25 |
| --- | --- | --- | --- | --- | --- | --- | --- | --- | --- | --- |
| Increased Attack Speed | 47% | 49% | 50% | 51% | 51% | 51% | 52% | 52% | 52% | 53% |
| Increased Run/Walk Speed | 55% | 56% | 57% | 57% | 59% | 59% | 60% | 60% | 61% | 62% |
| Duration | 252 | 264 | 276 | 288 | 300 | 312 | 324 | 336 | 348 | 408 |