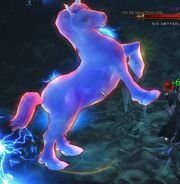 Buttercup, Don't Touch the Horses, They Bite,
 is a
unique
Unicorn
that can be found in
Gideon's Row
in
Diablo III
.
This monster appears in Adventure Mode with some chance, as a head of the horde of Cuddle Bears.
In combat, it has the Orbiter affix.
This is the only unique Unicorn that spawns outside Whimsyshire or Whimsydale.

This section contains facts and trivia relevant to this article.
The name and title of this monster are a possible reference to Buttercup, the diabetic police horse in the movie Half Baked.
Ad blocker interference detected!
Wikia is a free-to-use site that makes money from advertising. We have a modified experience for viewers using ad blockers

Wikia is not accessible if you've made further modifications. Remove the custom ad blocker rule(s) and the page will load as expected.