Cape of the Dark Night is a Legendary cloak for the Demon Hunter in Diablo III. It requires character level 59 to drop.
The Caltrops it drops fully benefit from the runes and enhancements of a regular skill, if you have one, but also obey the normal limit.
Stats (Level 59)
Edit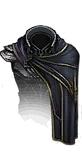 Cape of the Dark Night
Legendary Cloak
"Those who seek to do evil are a cowardly and superstitious lot." —Demon Hunter Bayne

This section contains facts and trivia relevant to this article.
The name, special affix, appearance and description of the cloak are a possible reference to Batman (the Dark Knight) and his true identity (Bruce Wayne).
Ad blocker interference detected!
Wikia is a free-to-use site that makes money from advertising. We have a modified experience for viewers using ad blockers

Wikia is not accessible if you've made further modifications. Remove the custom ad blocker rule(s) and the page will load as expected.