Captain Davyd is an NPC in Act II of Diablo III. He is the commander of Iron Wolves guarding the Khasim Outpost.
The player first meets him locked up in the Command Post, where Maghda attempts to kill the player with a trap. Apparently, Lieutenant Vachem took his place.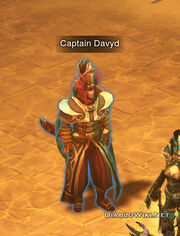 Ad blocker interference detected!
Wikia is a free-to-use site that makes money from advertising. We have a modified experience for viewers using ad blockers

Wikia is not accessible if you've made further modifications. Remove the custom ad blocker rule(s) and the page will load as expected.