Chaingmail is a legendary chest armor in Diablo III. It requires character level 29 to drop.
The special affix means that leaving combat with less than 10% of maximum Life will heal you back to 100% in 4 seconds. There are two signals of one's health being low enough. One is the screen flashing red, while the other is the sound of a heart beating.
Stats (Level 29)
Edit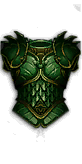 Chaingmail
Legendary Chest Armor
Properties:
+11–20 Resistance to All Elements

After earning a survival bonus, quickly heal to full Life

One of 3 Magic Properties (varies):
+3 Random Magic Properties
The magical properties of a piece of armor such as this intrigue the mind. It was constructed from the finest parts of many different armors that were worn by many different heroes.