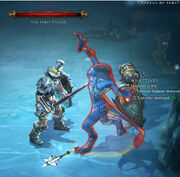 Chiltara, The Vile Frost Stalker,
is a randomly spawned
Unique
female
Wintersbane Huntress
in the
Caverns of Frost
in
Act III
of 
Diablo III
which are located in the
Fields of Slaughter
.
She is best known for dropping the Gibbering Gemstone, which is required to craft the Staff of Herding and gain access to Whimsyshire.
She only spawns in level 2 of Caverns of Frost which are not guaranteed to spawn. Chiltara herself is also not guaranteed to spawn, and does not guarantee a drop of the Gibbering Gemstone.
As of patch 2.4.1 it appears that she spawns a large percentage of time, but getting the gemstone to drop has a very low percentage. She usually appears right at the end of the cave, be it by the Resplendent Chest, the Teleporting Stone or in a dead end tunnel.
In combat, she has Orbiter and Frozen affixes.
Before patch 2.0.6, in addition to the gemstone, she also had a chance to drop either a Frozen Blood or Urn of Quickening.
Ad blocker interference detected!
Wikia is a free-to-use site that makes money from advertising. We have a modified experience for viewers using ad blockers

Wikia is not accessible if you've made further modifications. Remove the custom ad blocker rule(s) and the page will load as expected.