Classes
Talk

2
6,146pages on
this wiki
Redirected from Class
The Classes of the Diablo series are personifications of the player as seen in the game world. Each class is unique in the sense that they have unique graphics, skills and voices.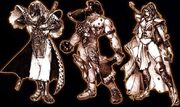 In Diablo I, each class had much more in common than in subsequent games. They only had one unique skill each but provided many differences in graphics, attribute distribution, and voice-overs.
Diablo: Hellfire
Edit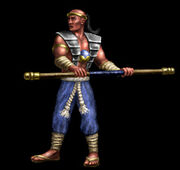 In Diablo: Hellfire, only one class was added, the Monk. But soon, two more unfinished classes were found in the game files. As such only the Monk's official artwork can be seen here.
Note: The Barbarian and the Bard are test classes. They are only made available by editing certain game files.
Development
Edit
It was originally intended that Diablo only have a single class (represented by the warrior), where players could distribute attributes to their liking and thus take the character in whatever direction they wanted. The division of the character into the warrior, rogue, and sorcerer archeatypes occurred late during development.[1]
Diablo II
Edit
In Diablo II, each class was made unique complete with unique skillsets for each class as well as many new gameplay options.
Diablo II: Lord of Destruction
Edit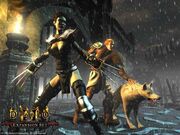 Diablo II: Lord of Destruction added two new classes complete with new ways to customize your old ones with Class-specific Items.
Development
Edit
During development of the game, it was originally intended that its classes be archeatypes that boiled down to the roles of fighter, rogue, and spell caster, based on a sub-class principle. The rogue would branch out into sisters (of the Sightless Eye order) and hunters/rangers, the fighter into a templar/paladin or berserker, and the spell caster into the sorceress or necromancer. Blizzard North decided against the idea because multiple genders would mean animating a total of 10 models, that, combined with the game's component system, would make the task too large to undertake.[1]
Diablo III
Edit

Diablo III has five different classes like its predecessor. All five classes can be played as male or female characters.
Diablo III: Reaper of Souls
Edit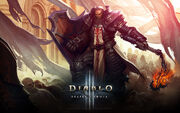 Diablo III: Reaper of Souls adds a new class called the Crusader.
Joke Classes
Edit
Development
Edit
For Diablo III, the designers intended that each class correspond to a classical fantasy archetype.[2] Angels will not be playable classes in the game due to them not being nephalem.[3]
References
Edit
↑ 1.0 1.1 2012-10-12, Diablo Was to be Classless, Diablo II Almost Recieved a Second Expansion. GameBanshee, accessed on 2013-09-10
↑ 2013-12-05, BlizzCon 2013 – Diablo III: Gameplay Systems + Crusader Panel Transcript. Blizzplanet, accessed on 2014-02-22
↑ 2013-01-02, Archangel and Deathangel classes for diablo 3. IncGamers, accessed on 2013-02-07