Cleave
Talk

0
7,096pages on
this wiki
Cleave
Active
Generate:

5

Fury
Swing in a wide arc to deal

150%

damage as Physical to any enemies caught in the swing.
Cleave is a Primary Barbarian skill, unlocked at level 3.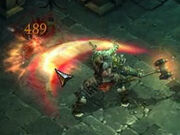 Each attack slashes a 120 degrees arc in front of the Barbarian, roughly 6 yards long, effectively hitting a broad cone. The graphics show a wider area than the actual effect.
This skill is a fast hit, but has a slight delay between uses, making it slightly slower than normal attacks. It can be delivered with one hand, and seems to alternate between forehand and backhand, so it can be used while the Barbarian is Dual-Wielding.
Rupture: damage type changes to Fire, and enemies slain by Cleave explode for

160%

damage as Fire to enemies within

8

yards.
Reaping Swing: damage type changes to Fire, and generates

1

Fury for each enemy hit.
Scattering Blast: an enemy critically hit, but not killed with Cleave is also knocked back

10

yards, and enemies within 5 yards of their landing point (including the target knocked back) suffer

80%

damage as Physical. If an enemy is immune to Knockback, they suffer extra damage immediately.
Broad Sweep: damage type changes to Lightning, and increases damage to

210%

.
Gathering Storm: enemies hit by Cleave are also Slowed by

80%

for

1

second.