Corpsefire is a Super Unique Zombie found in the Den of Evil.
He can generally be found in the furthest area from the cave entrance, and will be surrounded by several other zombie minions. He is easily distinguished from his minions by his blue color. For new players, Corpsefire is often not only the first Unique, but also the first Super Unique monster encountered, as killing him is required to complete Diablo II's first quest, Den of Evil.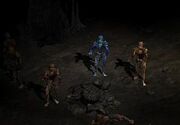 Along with Bonebreaker, Bishibosh, and Coldcrow, Corpsefire is one of a handful of monsters to have a maximum Treasure Class drop of 3, making him useful for farming items that fall into this category. 
Bonus:
Ad blocker interference detected!
Wikia is a free-to-use site that makes money from advertising. We have a modified experience for viewers using ad blockers

Wikia is not accessible if you've made further modifications. Remove the custom ad blocker rule(s) and the page will load as expected.