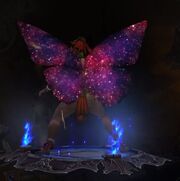 Cosmic Wings
are a vanity item for
Diablo III
, added in patch 2.4.1.
They drop from Princess Lilian in Whimsydale (not in Whimsyshire).
When used, they apply or remove a pair of butterfly wings with deep reflection of a cosmic sky.
When obtained, they can be added to the Wardrobe. Only one set of Wings can be used at a time. If equipped, they will be visible even in character selection screen.
Become one with the beauty of the music of the spheres.

This section contains facts and trivia relevant to this article.
"Music of the spheres" is a philisophical concept that regards the movement of celestial bodies as a form of music.
Ad blocker interference detected!
Wikia is a free-to-use site that makes money from advertising. We have a modified experience for viewers using ad blockers

Wikia is not accessible if you've made further modifications. Remove the custom ad blocker rule(s) and the page will load as expected.