Ad blocker interference detected!
Wikia is a free-to-use site that makes money from advertising. We have a modified experience for viewers using ad blockers

Wikia is not accessible if you've made further modifications. Remove the custom ad blocker rule(s) and the page will load as expected.
For the Rune Word, see Crescent Moon Rune Word.
Crescent Moon is a unique amulet from Diablo II. Although its bonus to Mana and diversion of damage to mana may seem more useful in the hands of a spellcaster, its mana leech is effective when used by physical fighters. Still, Sorceresses that specialize in Energy Shield may find Crescent Moon useful.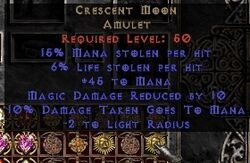 Crescent Moon
Amulet
Required Level: 50
10% Damage Taken Goes To Mana
+45 To Mana
3-6% Life Stolen Per Hit
11-15% Mana Stolen Per Hit
Magic Damage Reduced By 10
-2 To Light Radius