For the Rune Word, see Crescent Moon Rune Word.
Crescent Moon is a unique amulet from Diablo II. Although its bonus to Mana and diversion of damage to mana may seem more useful in the hands of a spellcaster, its mana leech is effective when used by physical fighters. Still, Sorceresses that specialize in Energy Shield may find Crescent Moon useful.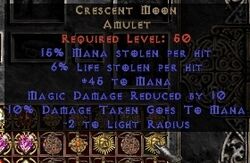 Crescent Moon
Amulet
Required Level: 50
10% Damage Taken Goes To Mana
+45 To Mana
3-6% Life Stolen Per Hit
11-15% Mana Stolen Per Hit
Magic Damage Reduced By 10
-2 To Light Radius

Ad blocker interference detected!
Wikia is a free-to-use site that makes money from advertising. We have a modified experience for viewers using ad blockers

Wikia is not accessible if you've made further modifications. Remove the custom ad blocker rule(s) and the page will load as expected.