Curses
Talk

0
5,080pages on
this wiki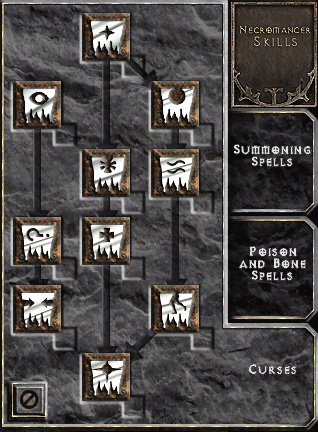 One of the Necromancer's three skill trees, Curses debilitate your enemies and makes it much easier for you and your summons to bring hell to your enemies. The Necromancer's curses can do everything from blinding your foes to having them attack each other and so much more, except actually doing direct damage. Please note that Curses do not receive synergies.
Note Worthy Curses
Edit
All the curses have their time and place for use. Even so, some curses you can't go without, and some curses are not worth looking at. There is a consensus among many players that only 4-5 of the curses are actually worth using. The first useful curse is also the first one you can get, which is Amplify Damage. This skill basically reduces your enemy's physical resistance by 100% and makes it much easier for you and your friends to defeat your enemies. As an added bonus, if a monster has immunity to physical attacks, Amplify Damage will remove that immunity. Another useful curse is Decrepify. This curse is like an upgrade to Amplify Damage in that it lowers physical damage and physical resistance by 50%. In addition, this curse also slows down the movement speed and melee attack speed of those cursed. Another spell to take note of is Lower Resist. This curse lowers fire,cold,lightning and poison resistances and breaks any immunities. The only down side is that this curse affects everything but physical and magic resistances. This curse is highly useful for when you are using a lot of elemental attacks(fire,cold,lightning,poison) or when you're partying with a Sorceress. Also, if you specialize in Revive, Raise Skeleton, another physical summon, or like to party with the physical classes, Life Tap can be useful as well, since it can extend the life of your summons and party members.
Lower Resist now affects only fire, cold, lightning, and poison resistance; its ability to affect magic resistance was removed in an earlier patch.
Decrepify affects Physical damage resistance, melee attack speed, movement speed, and physical damage. All other resistances are not affected.