Cydaea
Talk

6
6,011pages on
this wiki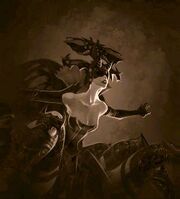 "Though Azmodan is close to all of his lieutenants, Cydaea is his special favourite. The Maiden of Lust is both beautiful and grotesque in appearance, with the torso of a woman and the legs of a spider. Her voice is said to be as smooth as honey, but she only speaks words of death."
– Deckard Cain[1]
Cydaea, the Maiden of Lust was a powerful demon, and a favorite lieutenant and concubine of Azmodan. She is also a member of the Sin Lieutenants.
Biography
Edit
Cydaea was a consort of the Lord of Sin himself and one of his dreaded sin lieutenants. Like the Maiden of Anguish, Andariel, Cydaea held dominion over a flock of succubi, calling them her "daughters".
When Azmodan launched his assault on Bastion's Keep, Cydaea remained behind. However, when a band of heroes led by Tyrael thwarted the demonic incursion, Azmodan called upon his consort to defend the vile Sin Hearts that powered his legions from within Arreat Crater.
However, like many other minions of Sin, Cydaea proved unable to stop the heroes. She was slain in the depths of Arreat Crater, along with the sin hearts she was supposed to protect.[1]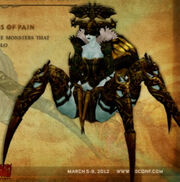 Cydaea appears as a minor boss in the Arreat Crater of Act III in Diablo III, appearing when the Nephalem destroys the Siegebreaker Assault Beast and proceeds to make progress towards the Heart of Sin. Cydaea will taunt the heroes seductively during their journey through the crater, dangling from a string of silk.
In combat, Cydaea lobs dangerously toxic projectiles towards her enemies. In addition, Cydaea summons spiderling minions to attack her opponents, and spiderwebs that slow them down. [1]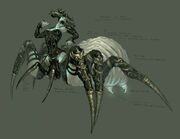 During Blizzcon '09, the Costume Contest was won by Lorraine Torres, dressed as Cydaea[3]
Her master's name is a variation of Asmodeus, who happens to be a demon of lust. This would also explain why her character serves to be the Lord of Sin's consort.
Her concept is also similar to that of Jorogumo, the Japanese "Whore Spider" spirits of folklore.
References
Edit
↑ 1.0 1.1 1.2 Diablo III, Act III
↑ Diablo III: Mistress of Pain Socks, Jinx. Accessed on 2012-05-26
↑ Lorraine Torres Facebook Cosplay), accessed on 2012-05-26