Ad blocker interference detected!
Wikia is a free-to-use site that makes money from advertising. We have a modified experience for viewers using ad blockers

Wikia is not accessible if you've made further modifications. Remove the custom ad blocker rule(s) and the page will load as expected.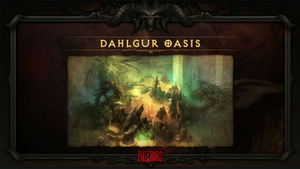 This small paradise was the birth of Caldeum. A mysterious man rose from the waste and showed the original settlers this source of water which was used to help begin Caldeum. However, the story is said that this mysterious man disappeared back into the waste after showing them.
According to historian Abd al-Hazir, this event is said to have occurred 300 years ago. Oddly, however, Eirena the Enchantress comments that the Oasis used to be much larger, presumably in her day, which was 1500 years ago, suggesting that the legend is likely wrong.
It is visited in Act II of Diablo III.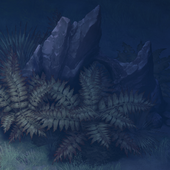 Somewhere in the Dahlgur Oasis, the unique Dune Dervish, Sokahr the Keywarden, can be found. Sokahr drops the Key of Hate (Key of Gluttony), necessary for the Infernal Machine event.
Unique Monsters
Edit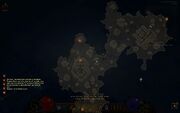 If you're trying to get to this area to try and get the Mysterious Cave for the Whimsyshire item, the best quest to start from is Betrayer of the Horadrim: The Forgotten Ruins as it places you right smack dab in the middle of the Dahlgur Oasis.