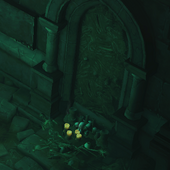 The Defiled crypt is an area of the Cemetery of the Forsaken in Act I of Diablo III. There are three crypts that can be explored, but only one holds the crown of King Leoric and has a second level. Occasionally, a crypt will spawn with an event quest on it.
Event Quests
Edit
Spawnable Containers
Edit
Ashes
Barrel
Coffin
Loose stone
Rotten coffin
Stone coffin
Stone vault
Ad blocker interference detected!
Wikia is a free-to-use site that makes money from advertising. We have a modified experience for viewers using ad blockers

Wikia is not accessible if you've made further modifications. Remove the custom ad blocker rule(s) and the page will load as expected.