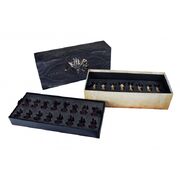 Diablo Chess is a Diablo-themed chess set, based mostly around the context of Diablo III. It contains Diablo characters in the place of standard chess pieces.
It does not include a chessboard.
Description
Edit
Angels vs. Demons. Eternally these forces have quarreled but to what end? Stalemate and destruction? NO LONGER! Grab your smoking jacket, get Deep Blue on the line because TONIGHT is for war; tonight the ancient rivalry is settled and YOU are in command!
Diablo chess includes 32 custom pieces, sculpted in polystone, featuring the biggest names in Sanctuary's blood-splattered history.
The piece equivalents are divided between the High Heavens and Burning Hells. They are as follows:
External Links
Edit
Ad blocker interference detected!
Wikia is a free-to-use site that makes money from advertising. We have a modified experience for viewers using ad blockers

Wikia is not accessible if you've made further modifications. Remove the custom ad blocker rule(s) and the page will load as expected.