Ad blocker interference detected!
Wikia is a free-to-use site that makes money from advertising. We have a modified experience for viewers using ad blockers

Wikia is not accessible if you've made further modifications. Remove the custom ad blocker rule(s) and the page will load as expected.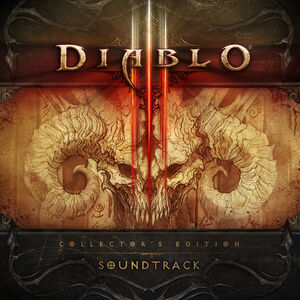 The Diablo III Soundtrack was released on May 15, 2012. It was composed by Russell Brower and includes 23 tracks. They are as follows
And The Heavens Shall Tremble (2:23)
The Eternal Conflict (2:37)
New Tristram (5:15)
Demon Hunter (2:58)
Black Soulstone (2:47)
Azmodan (1:58)
Witch Doctor (1:17)
Tamoe Highlands (4:18)
I Am Justice (1:57)
Barbarian (0:57)
Arreat (3:56)
Leoric (8:10)
Monk (1:27)
Incantation (2:17)
Bastion's Keep (7:31)
Wizard (1:17)
Caldeum (7:11)
Evil Reawakened (3:29)
Garden of Hope (3:25)
Heaven's Gate (2:42)
A Tenuous Bond (4:50)
A New Dawn (2:26)
Leah (2:36)
This soundtrack is available for purchase on Apple iTunes. It is also available for listening on devoted Diablo III fansites, such as Diablo3Music.