Home
Talk

62
5,555pages on
this wiki
Welcome to the Diablo Wiki!
Diablo is an action role-playing video game series (sometimes called hack and slash)
developed by Blizzard Entertainment. It is made up of three core games: Diablo, Diablo II, and Diablo III.
Expansion games include the third-party published Diablo: Hellfire, which follows the first game, and Lord of Destruction, published by Blizzard and released after the second game. Reaper of Souls is an upcoming expansion for Diablo III.

This Wiki contains 5,555 articles since March 2005.
Diablo III Spotlight

The Wizard is a playable class introduced in Diablo III at Blizzcon 2008. They use devastating combos of spells to destroy enemies in large numbers. The Wizard is a spellcasting class of Diablo III, similar to Diablo II's Sorceress or Diablo I's Sorcerer. Due to their powerful innate potential, these Wizards are capable of casting spells continuously using a new resource, Arcane Power, which regenerates much faster than Mana.
Wizards wield the powers of Ice, Lightning and Temporal Distortion with ease, as well as a forbidden art of Arcane magic. With added flexibility and firepower and a seemingly endless supply of Arcane Power, the Wizard is a powerful force to be reckoned with.
Featured Article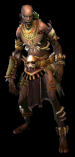 Many believe that the Witch Doctors of the Umbaru to be legend, though their abilities suggest otherwise. They dispatch their opponents with terrifying precision, assaulting a victim's mind and body with elixirs and powders that evoke fires, explosions and poisonous spirits...
read more...
Did You Know...
...that the Goatmen are actually not demons, but related to the Witch Doctor class from Diablo III?
...that Inarius was once a member of the Angiris Council?
...that Plated Pauldrons are the first item to be revealed from the Shoulders inventory slot?
[Template fetch failed for http://community.wikia.com/wiki/Template:GameGuides?action=render]