Welcome to the Diablo Wiki!
Diablo is an action role-playing video game series (sometimes called hack and slash)
developed by Blizzard Entertainment. It is made up of three core games: Diablo, Diablo II, and Diablo III.
Expansion games include the third-party published Diablo: Hellfire, which follows the first game, and Lord of Destruction, published by Blizzard and released after the second game. Reaper of Souls is the expansion for Diablo III.

This Wiki contains 8,454 articles since March 2005.
Diablo III Spotlight

Diablo III: Reaper of Souls is an expansion for Diablo III. It takes place shortly after the events of the original game, and features Malthael, former Archangel of Wisdom turned Angel of Death as its main antagonist.
In addition to a fifth Act, the expansion introduces the Crusader class, a remake of loot system and further additions to existing class skills. Reaper of Souls also offers greater end-game content, with non-linear gameplay in Adventurer Mode, constantly generated Bounty Missions and randomized dungeons known as Nephalem Rifts, all of which give better chances of tremendous loot.
Reaper of Souls can be purchased at the Blizzard Store for $39.99 US or $59.99 US for the Digital Deluxe edition, which offers bonus content.
Featured Article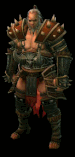 Though they were once misunderstood as simple, bloodthirsty invaders, the long and noble history of these proud people is now rightly acknowledged. And therein lies the greater tragedy here, for those of us familiar with the nobility of the barbarians remember too what they call their "vigil", the concept that lay at the very heart of their culture...
read more...
Did You Know...
...that Hell Bovines are voiced by Blizzard Entertainment employees?

Get the Wikia Game Guides App!
Access constantly updated, highly accurate guides and game walkthroughs created and maintained by our community of gaming experts.
DOWNLOAD NOW FOR FREE!
Latest News
---
Create blog post
News



Against the Burning Hells: Diablo III's Road to Redemption with Reaper of Souls

I had the pleasure to attend a talk by Josh Mosqueira; a Lead Game Des…

Read more >


If you're a console gamer and you have yet to jump on the Diablo III bandwagon, August 19th is the date to keep an eye on -- Blizzard announced toda…


Read more >

BlizzCon 2014 has been announced. Tickets now on sale.

Read more >
See more >