Home
Talk

62
6,165pages on
this wiki
Diablo III Spotlight

The Wizard is a playable class introduced in Diablo III at Blizzcon 2008. They use devastating combos of spells to destroy enemies in large numbers. The Wizard is a spellcasting class of Diablo III, similar to Diablo II's Sorceress or Diablo I's Sorcerer. Due to their powerful innate potential, these Wizards are capable of casting spells continuously using a new resource, Arcane Power, which regenerates much faster than Mana.
Wizards wield the powers of Ice, Lightning and Temporal Distortion with ease, as well as a forbidden art of Arcane magic. With added flexibility and firepower and a seemingly endless supply of Arcane Power, the Wizard is a powerful force to be reckoned with.
Featured Article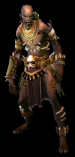 Many believe that the Witch Doctors of the Umbaru to be legend, though their abilities suggest otherwise. They dispatch their opponents with terrifying precision, assaulting a victim's mind and body with elixirs and powders that evoke fires, explosions and poisonous spirits...
read more...
Did You Know...
...that the Dark Wanderer is actually the Warrior from the first Diablo?