"Heroism in the face of absolute terror. That's how I describe the Diablo universe in a nutshell."

—

Micky Neilson(src)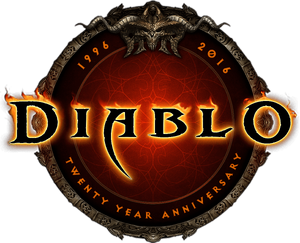 Diablo is a fantasy Hack and Slash/ARPG series from Blizzard Entertainment. It was started in 1996 with the release of Diablo.
Pen and Paper RPG
Edit
Guidebooks
Edit

This section contains facts and trivia relevant to this article.
The Diablo series primarily derives inspiration from Judeo-Christian symbols, icons and iconography. As the series has progressed however, more inspiration has been taken from other major real-world religions.[1]
Julian Love has suggested that Diablo himself should be in every main series installment, though him not being in expansions is acceptable.[3]
References
Edit
↑ 2013-12-08, BlizzCon 2013 – Diablo III Lore and Story Q&A Panel Transcript. Blizzplanet, accessed on 2014-03-29
↑ 2014-05-31, Inside Heroes of the Storm, Blizzard's MOBA mash-up of Diablo, StarCraft, and WarCraft. PC World, accessed on 2014-06-03
↑ 3.0 3.1 2017-01-04, Developer Insights: 20 years of Diablo. Blizzard Entertainment, accessed on 2017-01-23
Ad blocker interference detected!
Wikia is a free-to-use site that makes money from advertising. We have a modified experience for viewers using ad blockers

Wikia is not accessible if you've made further modifications. Remove the custom ad blocker rule(s) and the page will load as expected.