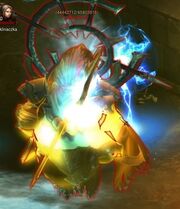 Dieyno the Warlock, Eye of the Graeae,
is a
Unique
Ghastly Seraph
found in the
Plague Tunnels
Level 1 in
Act V
of
Diablo III
. He may spawn when the cursed chest is touched (alternatively, his brothers 
Ennyo
or
Pemphrido
may spawn).
In combat, he has Molten, Orbiter and Waller affixes.

This section contains facts and trivia relevant to this article.
Like his brothers, this monster is named after one of the mythic Graeae Sisters, Deino. The title is a reference to the sisters having just one eye to share among the three.
Ad blocker interference detected!
Wikia is a free-to-use site that makes money from advertising. We have a modified experience for viewers using ad blockers

Wikia is not accessible if you've made further modifications. Remove the custom ad blocker rule(s) and the page will load as expected.