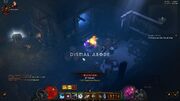 Dismal Abode
is a very small dungeon zone in
Act III
of
Diablo III
. It only appears in
Adventure Mode
, and is guaranteed to appear in every game.
Its entrance is located in the center of the Eternal Woods, in a cabin.
Inside, it has will always have one or more chests of random type. Once a chest is touched, dozens of Frozen Torsos will crawl out of the walls.